! Spanish News Today – The impact of the Russian-Ukrainian conflict on your financial investments
How does the Russian invasion of Ukraine affect investors' stock market assets?
By Keith Littlewood, Blacktower Global Financial Advisor
Investors have had a lot to do in recent months, with the emergence of the Omicron variant, rising inflation concerns and the prospect of higher interest rates. To these concerns we can now add the Russian invasion of Ukraine which, in addition to tragic human suffering, poses geopolitical dangers for the West and threatens to aggravate our inflation problems.
Obviously, this is a rapidly evolving situation that could change very quickly but, as of this writing, the West has so far reacted by imposing a limited number of targeted sanctions and the Germany has halted the certification process for Nord Stream 2, the new pipeline to bring Russian gas to European consumers. However, far more punitive sanctions are expected to be announced in the coming days and NATO will likely bolster its eastern flank with an increased military presence in countries like Romania, Poland and the Baltic states.
Market response to the Russian-Ukrainian conflict
In terms of market reaction, we have seen sharp falls in global equity markets while commodity prices have risen significantly, especially oil and gas. It's no surprise that safe havens are in demand, with the price of gold and government bonds rising, especially due to inflation.
The question now is how far does Putin intend to go with this military action? It can simply increase separatist-held territory in eastern Ukraine while degrading the Ukrainian military from the air. Or he could decide to try to occupy most or all of Ukraine, risking a bloody and drawn-out conflict that increases the chances of a confrontation with NATO. Early indications suggest he wants to at least effect regime change in Kyiv and bring the country back into Russian orbit.
Market volatility
Markets have been volatile in the build-up to the crisis, with geopolitical tensions heightening investor concerns over the prospect of higher interest rates. Central banks look set to end years of quantitative easing and ultra-low rates as they try to rein in rising inflation, removing what has been important support for markets. There had been light at the end of the tunnel, with economists predicting the peak of inflation was near as the impact of the pandemic faded. However, this peak could be pushed back if the prices of oil, gas and other raw materials continue to rise due to the Ukrainian crisis. Obviously, one of the big risks would be an interruption in the supply of Russian gas to Europe.
Volatility is likely to continue in the coming days, although history reassures us that markets should eventually ignore these geopolitical concerns and rally. During the annexation of Crimea in 2014, investors experienced some volatility, but global equities quickly resumed their upward trend as the crisis subsided.
Going back further, global markets fell on hard times before the US invasion of Iraq, but bottomed out about a week before the troops arrived and spent the rest of the year to increase steadily. And even further, there was a sharp decline in the stock markets during the Iraqi invasion of Kuwait in August 1990 when the price of oil doubled but markets quickly stabilized thereafter.
Obviously, all geopolitical events are different and this one is particularly serious, but Blacktower Financial Management is confident that markets will rebound once tensions ease. When it comes to what we do in our clients' portfolios, we continue to take a long-term approach and favor a broad range of globally diversified stocks as well as low-risk alternatives and fixed income. We have gradually turned to sectors that should benefit from higher interest rates, such as banks, as well as energy companies. However, we continue to favor longer-term growth companies with strong franchises and will seek to take advantage of any prolonged volatility. While we remain cautious on bonds, our fixed income holdings remain focused on liquidity, safety and diversification relative to equities. Rest assured that we are monitoring developments closely.
If you would like to contact us to arrange a free, no-obligation consultation, Blacktower's local office address is: 120 Avenida Dr. Artero Guirao 2C. San Pedro Del Pinatar, 30740, Murcia, Spain. Our office suite is easy to find on the main N332 road via San Pedro del Pinatar road with easy parking.
Disclaimer: This communication is based on our understanding of applicable law and practice, which are subject to change and are not intended to constitute, and should not be construed as, investment advice, recommendations investment or investment research. You should seek advice from a professional advisor before engaging in any financial planning activity
Blacktower Financial Management (International) Limited is licensed by the Gibraltar Financial Services Commission. License 03647. Blacktower Financial Management Limited is authorized and regulated by the Financial Conduct Authority in the UK and is registered with DGS and CNMV in Spain. Blacktower Insurance Agents and Advisors Limited is authorized and regulated by the Cyprus Insurance Companies Control Service (ICCS) under license number 5101. The regulation is limited to insurance mediation activities within the European Economic Area. Blacktower Financial Management (Cyprus) Limited is authorized and regulated by the Cyprus Securities & Exchange Commission ("CySEC") with license number 386/20 for the investment services of InvestmentAdvice and Receipt & Transmission.
Address
120 Avenida Dr. Artero Guirao 2C. San Pedro Del Pinatar, 30740, Murcia, Spain.
Phone : +34 657 684 094
Loading
Financial advice issues for expats in Spain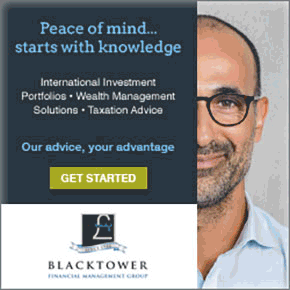 I have been a qualified financial advisor for nearly 30 years now. 25 years in the UK for major institutions such as Natwest, RBS and Royal London. I have been in Spain for 5 years now providing financial advice to expats and it is quite remarkable to see the different approaches as well as the advice required for an expat currently living in Spain. Blacktower is a company that has specialized in providing the best solutions for its customers living outside the UK for 30 years as well.
The question of currency is always on the agenda and a discussion on the long-term future must be taken into account. Questions like What will happen if one of the partners dies? Will the other stay in Spain? What about other family members? What inheritance tax provisions do you have in place? The list is lengthened increasingly.
Existing portfolios and investments that were the mainstay of portfolios in the UK may now be obsolete. An example of this is quite often tax-advantaged products in the UK like ISA and previously held TESSA PEPs actually have low growth rates and offer no tax advantage to a Spanish tax resident.
Existing pension assets, either paid by the state or private pensions built up over working life are matters that need to be covered. Many expats have many small pensions from many former employers and may be confused by communications and administration when dealing with them. At Blacktower, we specialize in advising on how to consolidate and bring all of these repos together in one place.
Bank accounts and investments in Spain always raise many questions. Very often the fine print associated with financial products in Spain is in Spanish, which can make it very difficult even if you have a good command of the language. Understanding jargon in English is sometimes quite difficult. I provide clear, easy to understand letters and documents in English so that you fully understand all terms and conditions before making a decision.
Advice on tax efficiency is equally important and offers good returns. There are products available exclusively to Spanish expats that can provide invaluable benefits. Having a good basic knowledge of current and future tax implications is an essential ingredient in making an informed decision.
I will thoroughly research the facts, ask you the right questions, establish your individual needs, risk attitude and loss capacity and desired returns before providing you with a written report full of advice and my plain language recommendations. . You will then have time to read and consider all of the information before contacting me with how you wish to proceed.
Click to More information on Keith Littlewood.
The above information was correct at the time of preparation and does not constitute investment advice and you should seek professional advice before engaging in any financial planning activity.
Blacktower Financial Management (Int) Ltd is licensed in Gibraltar by the Financial Services Commission (FSC) and is registered with DGS and CNMV in Spain