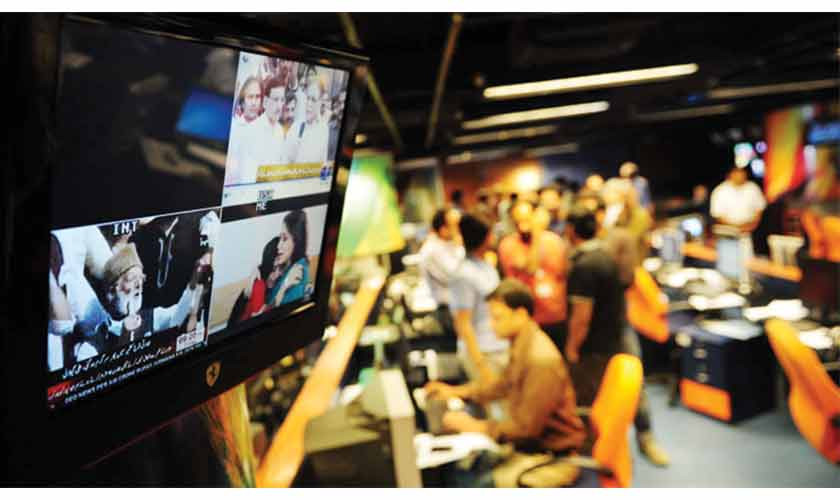 Rethinking News Media | Special report
he newspaper industry is weaning itself faster than expected. But the broadcast media too, in Pakistan and elsewhere, are deteriorating. In addition to the rise of digital and social media, the presence of too many news channels, deteriorating economic conditions, restrictions on media freedom and state control of media content are the main factors behind the rapid decline in consumer news consumption in Pakistan.
Most of the news channels launched in Pakistan in recent years are struggling to survive despite huge investments. Many had ignored market research before getting into the business. The situation worsened when the PTI government took power. He immediately stopped the advertisements and refused to pay the arrears contracted by the previous regime on the pretext that his predecessors had not followed the merit. The government's decision affected all channels, large and small.
This has led to delays in the payment of journalists' salaries while managements have resorted to severe salary cuts in addition to laying off thousands of media workers. There are more than 30 news channels broadcasting news and current affairs programs. With few exceptions, owners of news channels do not pay their staff salaries on time. In many cases, directorates failed to clear arrears even after receiving Covid assistance. The Federal Union of Journalists of Pakistan has estimated that more than 7,000 journalists and media workers have lost their jobs in the past four years. A fraction of them managed to find alternative jobs for much lower salaries than they earned before 2018. Almost all news channels and publications have reduced their activities. A few news outlets have had to close their businesses after failing to meet rising costs.
There are also other factors. In the absence of a mechanism to generate revenue from cable operators, news channels rely on revenue from advertisements run by government and private commercial entities – both have drastically cut their marketing budgets due to of the economic slowdown. Another major problem facing news channels is that they do not charge viewers subscription fees. Instead, cable operators are knocking in handsome sums of money from channel managers who want to make sure their respective channels stay in the package.
The advent of digital media has shaken satellite television in many parts of the world. A survey in the United States found that more than 80% of news is now consumed through digital and social media platforms. Many broadcast journalists have been expelled. They have found new avenues on digital platforms like YouTube and Facebook to provide independent content. The government pressured media owners to take some journalists off the air because they were too critical of the state. Ironically, this turned out to be a boon for some television journalists.
Today, almost all news channels have stepped up efforts to strengthen their digital media sections. A local news outlet, Public News, which lacked revenue to pay staff salaries, hired some young minds three years ago to develop its digital media section. The digital media team has helped the management earn more than Rs 30 million per month. Management started paying good salaries to digital media staff and employees of their TV stations started getting paid on time. Capital TV is another example of how an experienced digital media team can enhance digital and social media content.
DTH licensing has been pending for many years due to security clearance and legal issues. It is only recently that the Pakistan Electronic Media Regulatory Authority (PEMRA) has started to explore new licensing regimes, such as Television Audience Measurement (TAM), Over the Top (OTT), teleportation, etc which is likely to generate more employment opportunities in Pakistan. The government hopes to collect an advance tax from license holders when issuing licenses and renewing them.
Three licenses for the launch of DTH in Pakistan have been approved by the authority and the government expects an investment of around $2-3 billion in various projects. This could give the news channel industry a boost if it goes ahead without undue obstacles. It will also help end the "blackmail" of cable operators who were already worried about some companies laying fiber optic cables to provide customers with premium live video streaming.
Meanwhile, the situation improved a bit after PEMRA licensed more news and entertainment channels. Most of the licenses have been acquired by real estate moguls who are getting into the business of electronic and digital media despite the historic economic collapse facing the country. It has helped some TV journalists get back to work after being out of work for months and years. Additionally, 2023 is set to be an election year, so news channels that had cut newsroom staff are once again recruiting.
Some structural changes are needed to make the media industry competitive and dynamic. An autonomous PEMRA can play its part in reviewing its regulatory policy for the proper functioning of a healthy media domain in Pakistan. There is also a need to sustain media funding models by reducing reliance on public funding. A greater dependency on subscription could make the media more viable in addition to improving the ranking system. This must be done to break the monopoly of a single company that has been accused of tampering with viewership meters to favor one or another news network. There is also an urgent need to promote research on regulation, the media market, media policy and global best practices.
Media experts believe that while TV viewership will continue to decline in the coming years, the future of digital and social media is bright.
---
The writer is a seasoned broadcast journalist and has worked with several news channels in Pakistan