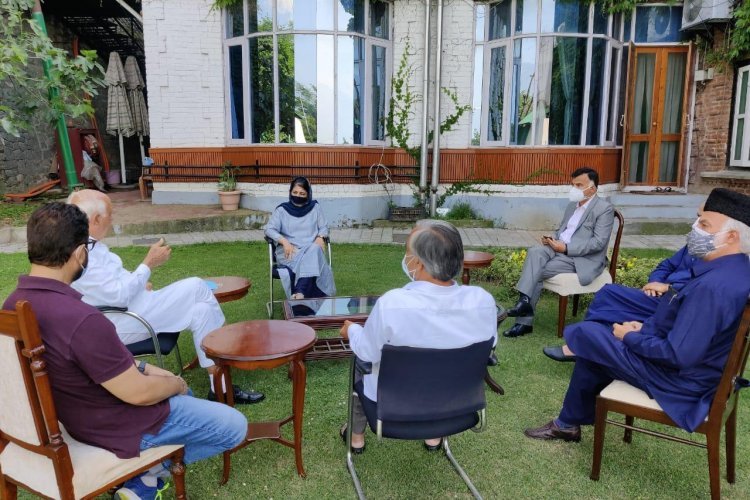 Notice to Mehbooba Mufti to leave the government bungalow – Sangri Today
Notice to Mehbooba Mufti to leave government bungalow: Former J&K CM said – I have no place where I can live
PDP President Mehbooba Mufti has been advised to leave the government bungalow. The former Chief Minister of Jammu and Kashmir said the notice to vacate Fairview Residence on Gupkar Road was given to me a few days ago. It is not a surprise. However, it is also stated in the reports that they may be assigned another bungalow to live in.
After the notice surfaced, Mehbooba said, "I don't have a place to live. So I will have to consult my legal team before making a decision." He also said that it was written in the notice that the bungalow was for Chief Minister of Jammu and Kashmir but that is not the case as this bungalow was given to him after his father was removed from his position as CM.
Mehbooba said the bungalow was given to his father, Mufti Mohammad Sayeed, in December 2005 when he was chief minister. Most of the top politicians, bureaucrats and police and intelligence officers live around the luxurious Fairview Residence on Gupkar Road. Mehbooba has been under house arrest several times in this bungalow.
Until 1989, this bungalow was used as an official guest house. It was later taken over by security forces in 1990. It was named Papa-2 to keep the campus's new purpose confidential. It remained an interrogation and torture center until 1996.
In 1996, the former Chief Secretary of Jammu and Kashmir, Ashok Jaitley started living here. After the renovation in 2003, then Finance Minister Muzaffar Hussain Baig came to live here. The family of the late former Chief Minister Mufti Muhammad Sayeed and his daughter Mehbooba Mufti have lived here since 2005.
For the latest update of Sangri today Like us on Facebook and follow Twitter. Fore Latest Video News Subscribe to our channel on YOUTUBE. Also join our telegram channel