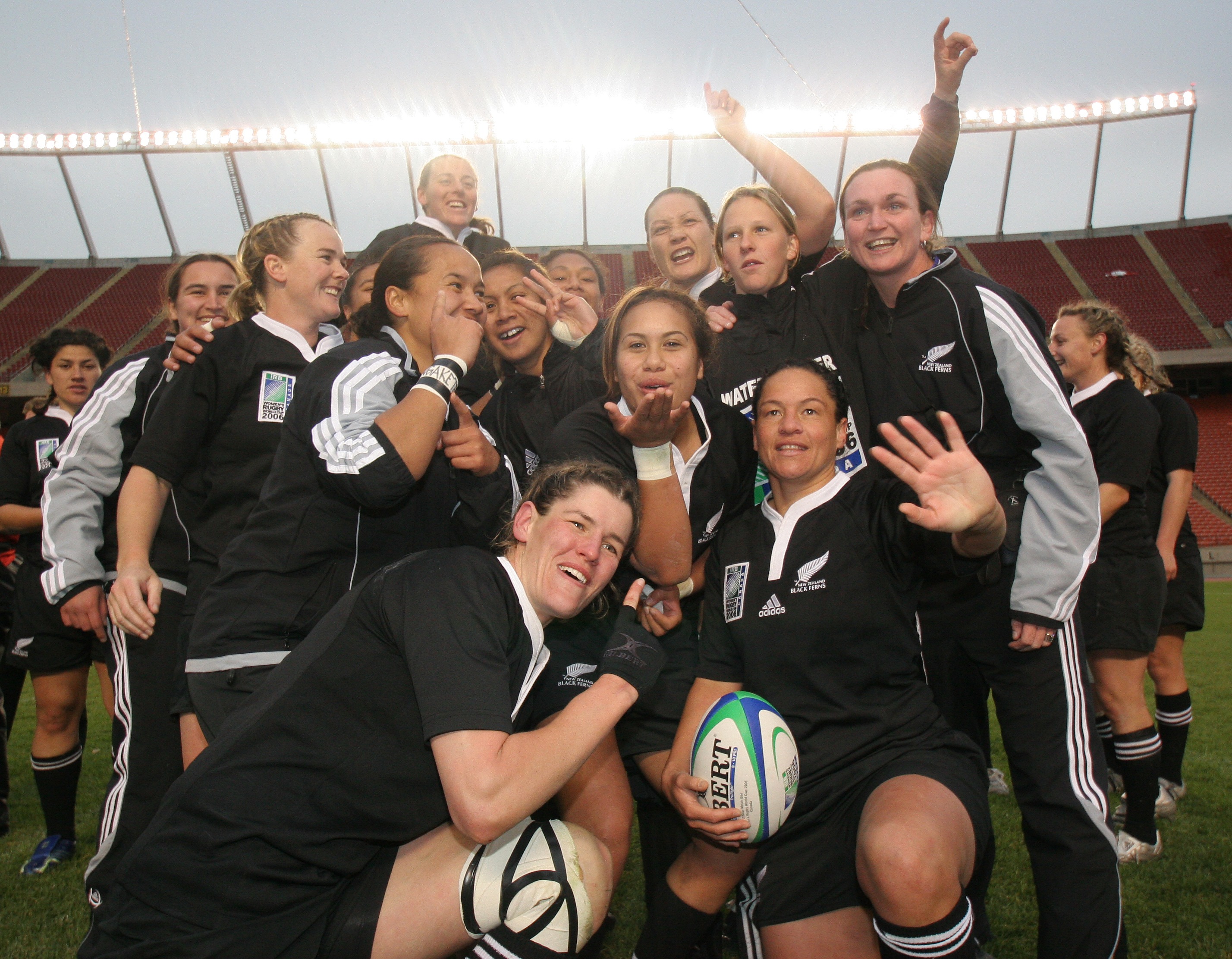 New News Article » allblacks.com
As we count down to the 2021 Rugby World Cup, played in 2022, on New Zealand's shores, we take a look at the 2006 starting XV that won the World Cup in Edmonton , in Canada.
The Black Ferns, led by Farah Palmer, beat England 25-17 in the final. Having already won in 1998 and 2002, they were aiming for their third consecutive title.
Here are the players who started this final.
1. Diane Maliukaetau
Born in Tonga, Maliukaetau was inspired to play rugby at Tangaroa College. She moved to New Zealand in 1999 and Davida Suasua (née White) helped her get into the game. She played in six Tests, including four at the 2006 World Cup, where she was just 19 . Maliukaetau studied tourism and coached rugby at Tangaroa College. She has five children.
2. Farah Palmer
A player who needs no introduction. 35 Tests including 30 as captain, Farah Palmer led her respective teams to World Cup victory in 1998, 2022 and 2006. She scored in the 2006 final against England. Dr. Farah Palmer is Associate Dean for Maori Studies at Massey University. She became the first woman to sit on the New Zealand Rugby Board (NZR) and chair the New Zealand Māori Rugby Board. In 2021, she was appointed Vice President of NZR.
3. Casey Caldwell (born Robertson)
A natural loose forward, Casey Robertson (now Casey Cladwell) was selected to the Black Ferns squad as the first rower. She said it was a trial by fire and former All Blacks scrum coach Mike Cron was a tremendous mentor. The Wyndham daughter played 38 Tests for the Black Ferns, 16 at the accessory and 22 in the loose forwards. Her Test career spanned more than a decade, finally hanging up her boots in 2014, having made her debut in 2002. Caldwell works on the family farm with her three children.
4. Monalisa Urquhart (née Codling)
The 1.78m lock helped the Black Ferns to 24 straight Black Ferns wins between 2002 and 2009. She started 19 of her 30 Tests and nearly missed the 2006 World Cup with a serious case of chicken pox. She scored a spectacular try in the final, running 40 yards to score just before half-time. Urquhart spent time in France as head of finance and operations for the British Council. She previously managed Auckland's women's sevens side and commentated for Sky Sport.
5. The Victoria Highway
Heighway and Urquhart started 19 Test matches together and went eight straight years unbeaten in the Black Ferns. Apart from Rosehill College, Heighway also scored in the 2006 final against England. It was on a lineout practice with seven minutes remaining. Making her debut in 2000 at the age of 19, Heighway won Women's Player of the Year in 2007 and 2009. Today, she is an interior designer for a home building company, after have worked as a mason.
6. Melissa Ruscoe
A multi-talented sportswoman, Ruscoe captained New Zealand in rugby, football and sevens. Rusco led the Black Ferns eight times. She helped set up that vital try in the 2006 final, scored by Heighway. In 2011, she became a member of the New Zealand Order of Merit for her services to women's rugby. She has been the assistant coach of successful Canterbury team Farah Palmer Cup since 2016. She is also a teacher at Hillmorton High School.
7. Rochelle Martin
She is considered one of the toughest and most talented free forwards in Black Ferns history. Prior to the 2006 World Cup, she tied Richie McCaw's score on the yoyo fitness test. Martin has won three World Cups, starting 8th on 20 occasions throughout her playing career. Auckland's third line has never lost a game for their provincial side. Martin works for the fire department and in 2018 she received an Order of Merit for her services to firefighting.
8. Linda Itunu
Linda 'Bindi' Itunu is a black fern legend. Highly respected by current and former players. Itunu suffered a knee injury in 2005 but recovered in time to play her first World Cup in Edmonton the following year. She also played Sevens, appearing in 11 tournaments and helping them win the 2013 World Cup in Moscow. She currently works for the Department of Social Development and has ambitions to give back to the game she loves in the form of coaching.
9. Emma Jensen
Jensen has made the most first class appearances by a player and she is still playing at the age of 44. For the past two seasons she has played for Hawke's Bay Tui in the Farah Palmer Cup. Between 2002 and 2015, she landed 49 Tests for the Black Ferns, establishing a remarkable combination with first five-eighth and great friend Anna Richards. The duo started 19 times together in Test matches and never lost. In the 2006 World Cup, Jensen had one of his best performances in the semi-finals against France, scoring 20 points in the win. She currently teaches at Hastings Girls' High School and last year was elected to the Hawke's Bay Rugby Board.
10. Anna Richards
She's often labeled Black Ferns' "GOAT," playing 49 Tests over two decades. She missed only four possible Tests between 1991 and 2010 and was inducted into the World Rugby Hall of Fame in 2014. Richards played the first-ever official Test against Australia in Sydney in 1994, she started as a half-back . She claims winning the 2006 World Cup was a favourite, due to the physicality displayed by the English. Last year, Richards became the first woman to be awarded the Steinlager Salver for her outstanding service to New Zealand rugby. She continues to serve the game, serving as player development manager for Auckland Rugby and assistant coach for the Farah Palmer Cup team.
11. Stephanie Broomhall (née Mortimer)
The 2004 player of the year grew up in Blenheim and attended Canterbury boarding school. When he was 16, his mother suggested he take up rugby. The Canterbury winger made his Black Ferns debut in 2003 and scored a try in every 2006 World Cup appearance, including the final. She has four children and a stepson and teaches early childhood.
12. Exia Edwards
A leader on and off the pitch, Edwards won three World Cup titles with the Black Ferns and was also a member of the Sevens team that won the first World Cup in 2001. A proud Bay of Plenty wahine, she scored 128 points in his 30 games for the province. In 2019, she was recognized by Bay of Plenty Rugby, receiving the Distinguished Service Award, one of the union's highest honours. For over a decade she was a sports and events organizer for Bay of Plenty Sport, with a focus on primary school children. She has also been a coach, at school and club level.
13. Huriana Manuel-Carpenter
Huriana and her mother, Eliza Mihinui, are the first mother-daughter combo to play for the Black Ferns. Starting out for Auckland in 2004, Manuel enjoyed incredible success in the game of XVs and Sevens. Manuel was the leading center in New Zealand women's rugby for a decade between 2005 and 2014. She played 26 Tests for the Black Ferns. She now runs an F45 gymnasium in Te Atatu and has a son with her husband and former Japan international Derek Carpenter.
14. Claire Richardson
Born in Wairoa, Richardson first classified rugby at Napier Girls' High School in 2001. She moved to Dunedin in 2022 and played for Otago until 2007, where she remains the top points scorer for the Spirit, with 221 points. She was a versatile full-back, starting at center and moving to the right wing for the Black Ferns. She also played on the left wing and at fullback and second five-eighth. Richardson scored 54 points in his 24 Tests.
15. Amiria Rule
Amiria Rule (née Marsh) had a remarkable 14-year rugby career. She was only in grade 10 at school when she was selected to participate in a Black Ferns trial. She made her debut aged 17 against Canada in 2000. The versatile full-back has won two World Cups and in 2006 was named New Zealand Player of the Year. Rule is currently a teacher at Avonhead Primary School in Christchurch.
The 2021 Rugby World Cup, played in 2022, kicks off on October 8, with matches to be played at Eden Park, Waitākere Stadium and the Northland Events Center in Whangarei. Find more information here.
Player Info Credit: stats.allblacks.com