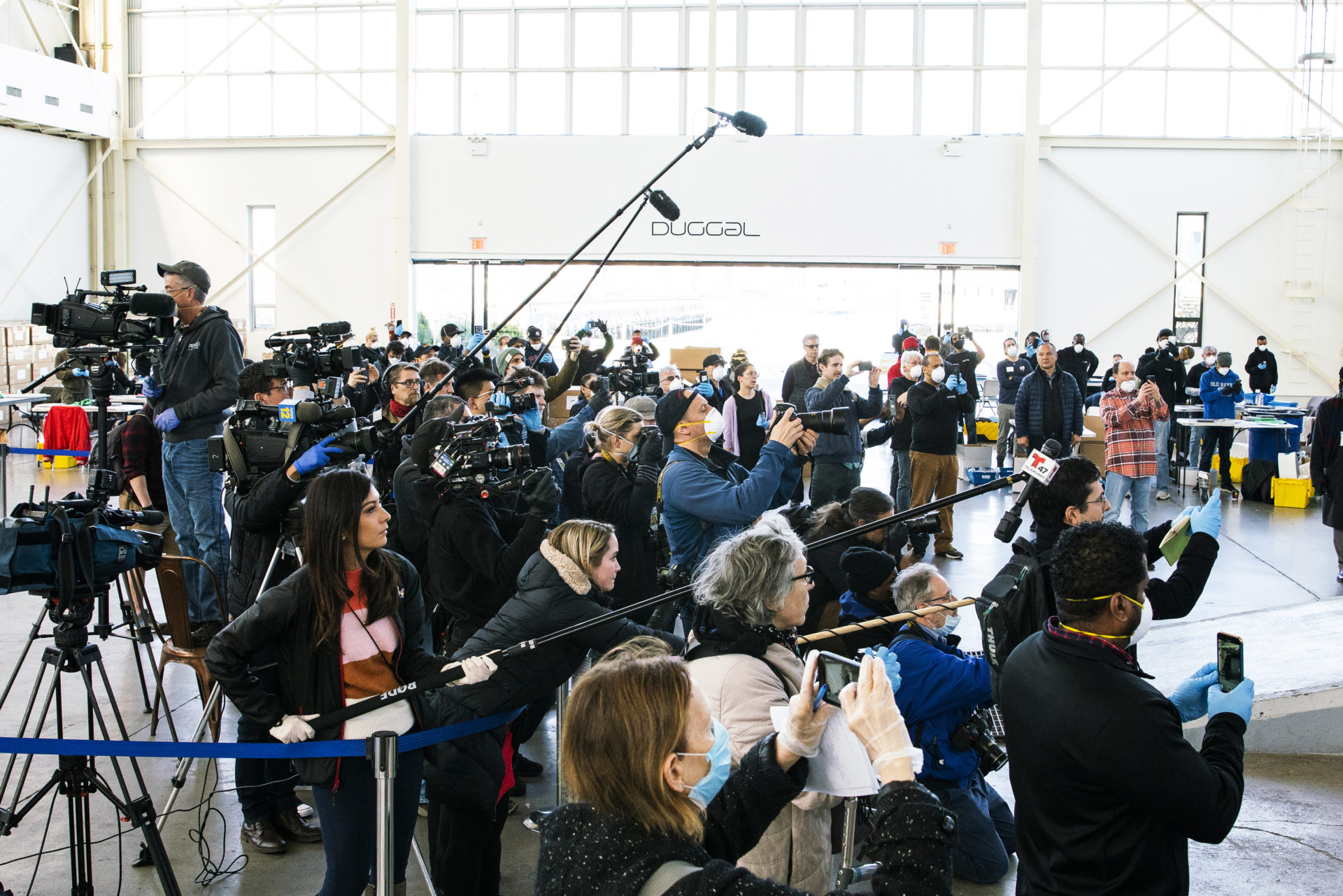 Media credibility rating drops to new low
As America grapples with a historic crisis under the leadership of a Republican president who frequently mocks the media as "fake news", new trend data from Morning Consult reveals that Americans' views on the credibility of the Fourth Estate has hit a new low under the Trump administration, largely driven by declines among Republicans.
The share of American adults who said nine major news outlets — including CBS and the New York Times — were credible has fallen about 9 percentage points since December 2016, from 60.6% to an average of 51.2 % today. Last year, the average credibility rating was 55.4%.
As seen in last year's analysis, Republicans are driving this decline.
Over the past four years, members of the "Grand Old Party" have become on average 16 points less likely to consider media outlets surveyed to be credible: In 2016, a majority (56%) of the group said outlets such as NBC and National Public Radio were credible, while 40% said the same in the latest survey, lined up April 16-18 in partnership with The Hollywood Reporter.
Among Republicans, perceptions of four outlets have fallen more than 20 points since the last presidential election. In December 2016, at least about half of Republicans thought the Wall Street Journal (64%), The New York Times (52%), CNN (51%) and MSNBC (48%) were credible. Four years later, those figures now stand at 41% for The Journal, 29% for the Times and 27% for CNN and MSNBC.
Fox News is the only media entity to remain relatively unscathed, though the share of GOP adults who find it credible has slipped 6 points since 2016. Two-thirds of Republicans say the "fair and balanced" media outlet is credible, a figure more than 20 points higher than the next outlet's credibility rating among Republicans (CBS, at 46%).
For Democrats, Fox News was the only outlet to see a double-digit decline between 2016 and 2020, from 45% to 33%. But Democrats' perception of the credibility of every media organization listed in the survey has also plummeted throughout President Donald Trump's presidency.
The poll comes at a particularly sensitive time for news reporting, as residents across the country seek out accurate reports on the coronavirus pandemic. A recent poll shows a country divided over the job the news media do: 55% of respondents in a Gallup poll from March 13-22 survey disapproved of the media's handling of the coronavirus in the United States, while a Pew survey, on the ground March 19-24, reported that 54% of the public said the news media was doing a "good" or "great" job in response to the outbreak.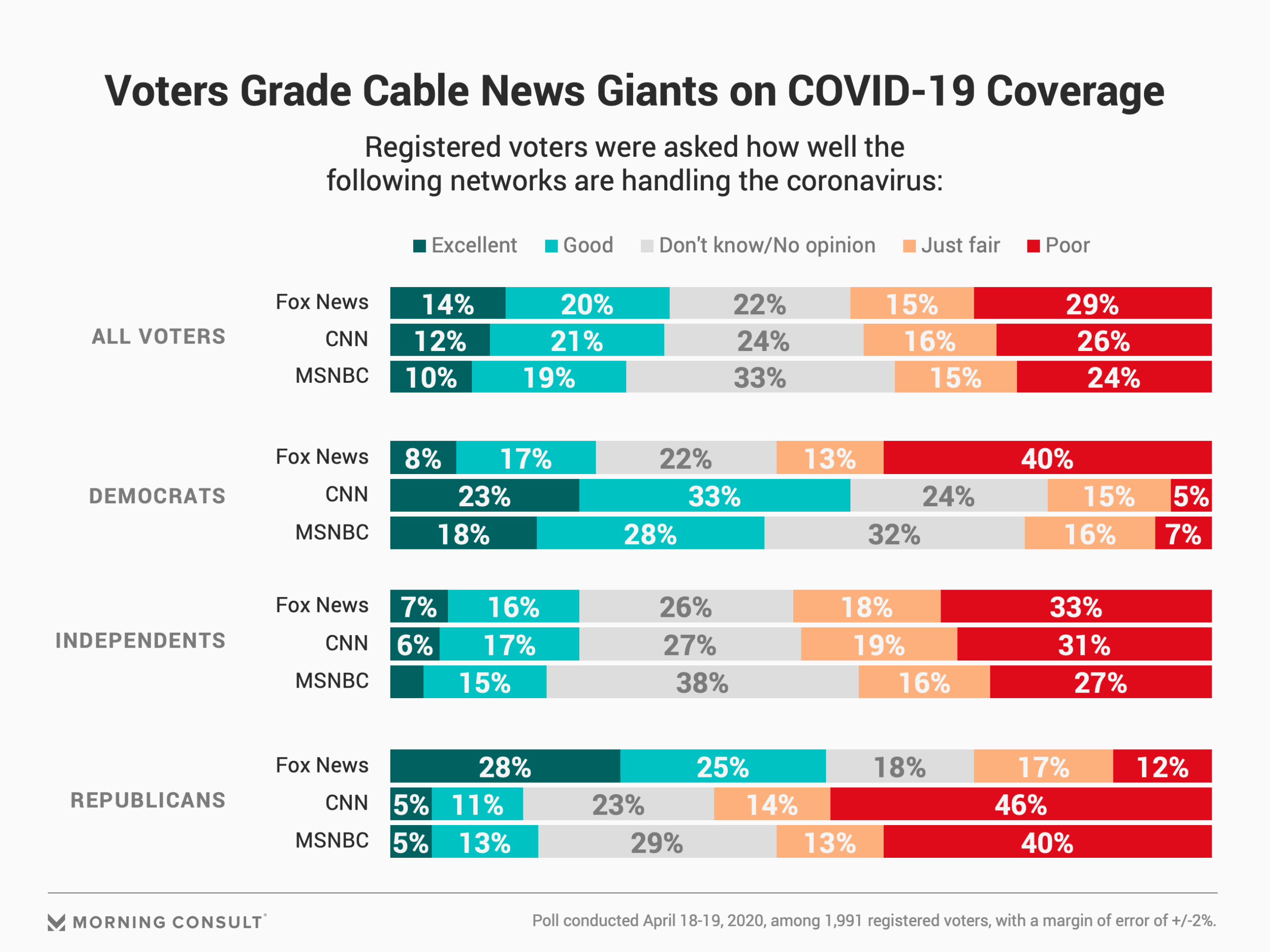 Attitudes vary between outlets. Registered voters are about as likely to say cable news giants Fox News, MSNBC and CNN are doing a "bad" job in handling the coronavirus as they are to say they are doing a " excellent" or "good" job, according to an April 18-19 Morning Consult/Politico survey. More than half of Democrats say CNN is doing at least a good job, while most Republicans say the same of Fox News.
A separate bench report of April 1 showed that differences in Americans' perceptions of the outbreak correlated with what they identified as their main source of information.
The latest results from the Morning Consult survey suggest stronger political divisions in perceptions of the nation's news brands. A morning consultation from October 2019 To analyse of more than 3,700 brands revealed that 12 of the 15 most divisive brands were media outlets and partisan divisions deepened between 2018 and 2019.