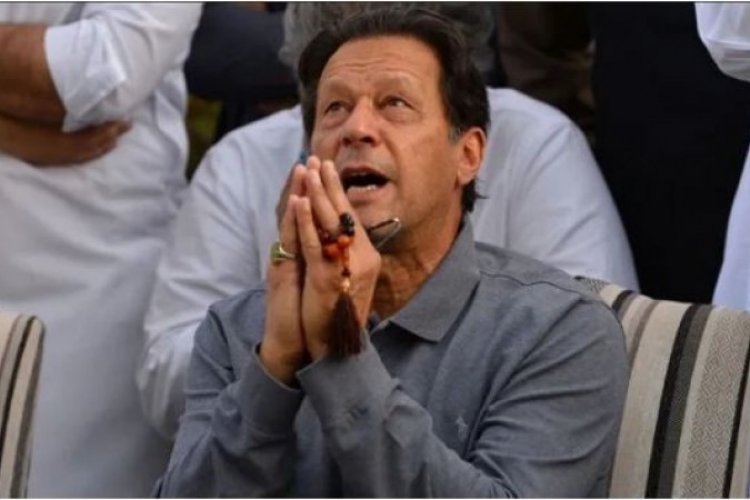 Imran Khan can be arrested at any time
Imran Khan can be arrested at any time: Crowd of supporters in front of the bungalow; The judge and the police were openly threatened
Former Pakistani Prime Minister Imran Khan can be arrested at any time. At a rally in Islamabad, Imran had openly threatened women, judges and police officers. An FIR has been filed against Khan in this case under the Anti-Terrorism Act.
Police tightened security on the road leading to Imran's bungalow. Shah Mehmood Qureshi, vice chairman of his PTI party, says the government is considering arresting Imran Khan. Amid fears of arrest, Pakistani media claimed that Imran Khan had disappeared from the house.
The Pakistan Electronic Media Regulatory Authority (PEMRA) immediately banned the live broadcast of Imran Khan's speeches. The police will also take legal action. According to the media, Rangers have been put on alert and Khan can be arrested at any time.
According to PEMRA, Khan violated Article 19 of the Constitution. Imran Khan constantly makes baseless allegations against the country's army, police and judiciary. His speeches spread hatred.
Imran had said at a rally held at F9 Park in Islamabad on August 20 – Pakistani police are arresting my party leaders on someone's instructions. When I asked the police why Shahbaz Gill was arrested, the police said they were just following orders.
Not only that, Khan accused a female judge of being biased against her party and threatened to look at her. He said the judiciary should also prepare for the consequences. Khan also threatened the female judge who ordered Gill's remand, saying action would also be taken against the judge. Be prepared to judge.
Shahbaz Gill was arrested by police on August 9. At the time of his arrest, Gill was traveling to Imran's house in Banigala in a luxury car. He had made very bad statements about the Pakistani military and justice in the past. This angered the army and the government. He was therefore arrested. At that time, it was believed that the police could also arrest Imran.
According to the Pakistani information site The News, the Federal Investigation Agency (FIA) can arrest Imran Khan in the event of illegal financing from many countries, including India. The FIA ​​may also investigate the funds and accounts of Imran's party, the PTI. For this, the agency may seek permission from the court. If Imran does not appear before the investigation committee or respond to the notice regarding the illegal financing case, he will be arrested.
According to reports, the final decision to arrest Imran Khan can be taken after giving him 3 notices. On Friday, he received a second opinion. According to 'Geo News', Pakistan's elite security unit, the Rangers, has been put on alert following Imran's arrest.
For the latest update of Sangri today Like us on Facebook and follow Twitter. Fore Latest Video News Subscribe to our channel on YOUTUBE. Also join our telegram channel