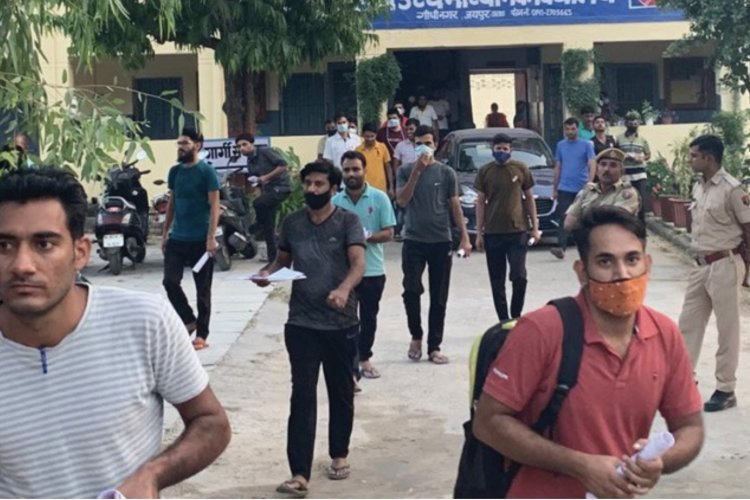 Forestry recruitment exam for 99 positions tomorrow – Sangri Today
Forestry Recruitment Examination for 99 Positions Tomorrow: Upon presentation of admission card, applicants will be able to travel for free, 1.5 hours before entry
The Rajasthan Personnel Selection Committee will hold the Forestry Recruitment Examination in two shifts on Sunday. The recruitment examination for 99 positions will be held at 1718 examination centers in 10 districts of the state. For which 5 lakh 59,000 candidates registered. In such a situation, on average, there will be competition between 5654 candidates for a position.
Police and SOG teams will be deployed by the council to prevent cheating in the recruitment exam. During this time, candidates will be admitted to the examination centers after checking with metal detectors. At the same time, one day before the exam and one day after, candidates will be able to travel for free on the Blue Line buses of Rajasthan Roadways by showing the admission card. Of these, a maximum of 1 lakh 60,000 applicants will appear for the recruitment exam in Jaipur. For which 4 temporary bus stops have also been made.
Candidates must report to the exam center before 1:30 a.m. of the scheduled exam time. Thus, after the search, you will be able to sit in the assigned seat in the examination room in time. No candidate will be allowed to enter the examination center after the stipulated time of the start of the examination. During this time, the first shift will be from 10:00 a.m. to 12:00 p.m. While the second shift will be from 2:30 p.m. to 4:30 p.m.
The ranger recruitment examination will be conducted by the personnel selection committee in 10 districts in the state only. In these countries, examination centers have been established in Jaipur, Ajmer, Alwar, Bharatpur, Bikaner, Bhilwara, Ganganagar, Jodhpur, Kota and Udaipur.
Candidates appearing for the Forestry Recruitment Examination may not come to the examination center with watches, chains, rings, earrings, medallions, or any type of jewelry. The wearing of all these ornaments will be prohibited. Other than that, bringing a purse, purse, or newspaper is also prohibited. In case candidates bring any of these documents with them to the exam. They must therefore keep it outside the examination center and the full responsibility will also lie with the candidate.
During the Forestry Recruitment Examination, candidates may not bring any type of electronic devices such as mobile phone, Bluetooth, or calculator to the center. In such a situation, if any of these items were found with the candidate. Then, proceedings will be brought against him under the Prevention of Unfair Means Act 1992. the accused will be seized and a fine will be levied on him.
After Forester, the Ranger Recruitment Examination will be held on November 12-13. In the recruitment exam to be held for 2,300 positions, 16 lakh 36,516 candidates in the state failed to register. Those who will sit for the recruitment exam in two shifts at 5,057 exam centers in 30 districts across the state.
For the latest update of Sangri today Like us on Facebook and follow Twitter. Fore Latest Video News Subscribe to our channel on YOUTUBE. Also join our telegram channel