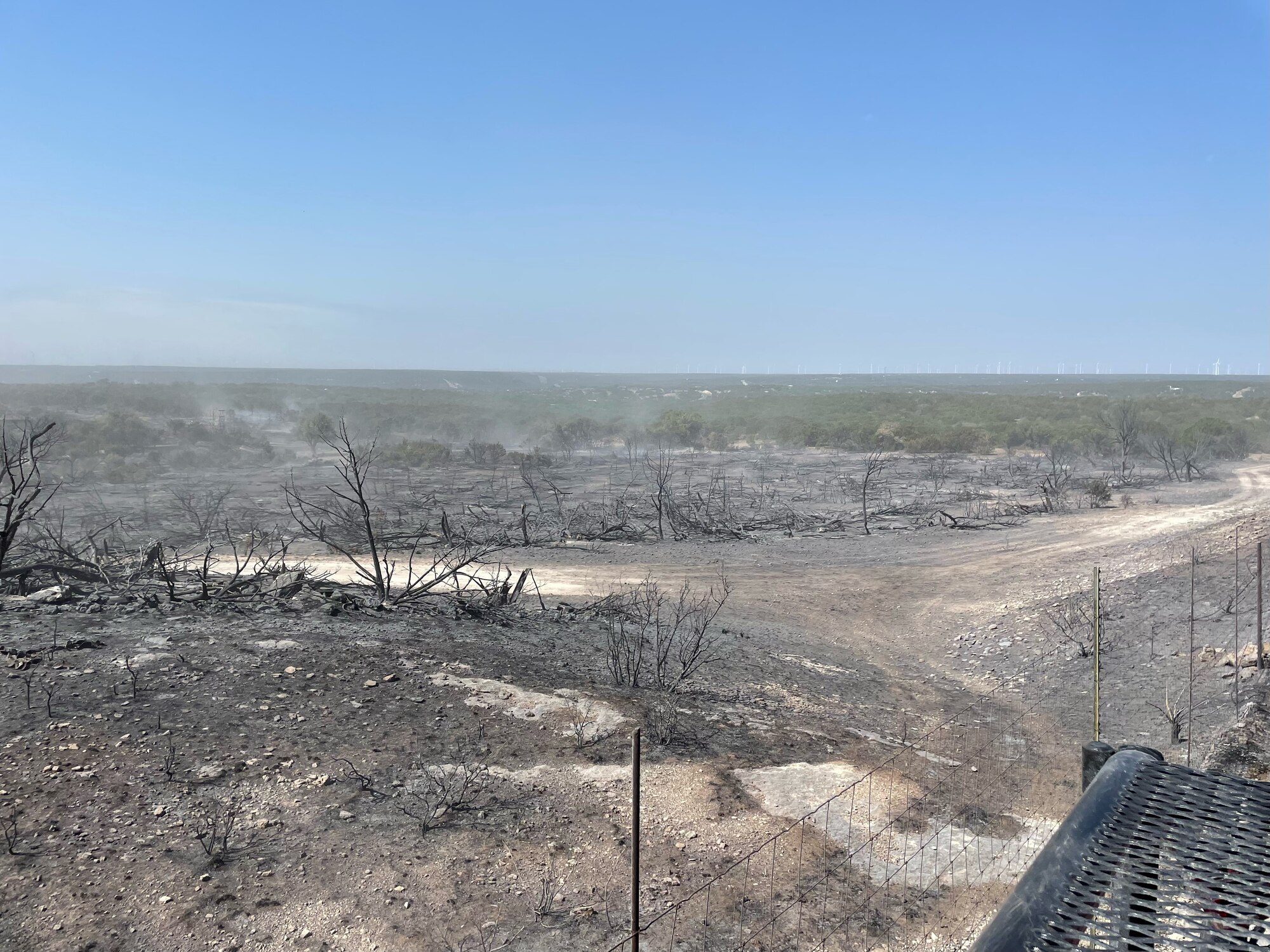 Flyers Fighting Fires > Air Force Reserve Command > News Article
BARKSDALE AIR FORCE BASE, Louisiana —
It all started with a house project gone wrong. US Air Force Maj. Tyler Wilson attempted electrical work in his outdoor hangar that ended in flames and emergency responders in his backyard. Once the fire was out and the energy subsided, Wilson walked over to the fire chief and asked if there was a fine or repercussions for having to call the fire department. The fire chief replied, "No, but now you have to volunteer with us."
Five years and nearly 100 fire responses later, Wilson continues to volunteer with the Elm Creek Community Association Volunteer Fire Department (ECCA VFD). He also works full-time as a director of planning, chief of security, and a B-1 Lancer pilot assigned to the 345th Bomb Squadron, Dyess Air Force Base.
He was driving home on May 17 after an 8-hour shift when he received an emergency dispatch notification from his volunteer firefighter application.
It was his address.
Wilson quickly clicked "I'm available" and was the second volunteer firefighter to arrive on the scene.
"The fire actually started at my front door and burned through my entire property," Wilson said. "It was about five kilometers from the fire station."
Wilson found himself battling the Mesquite Heat Fire, a wildfire that burned 10,960 acres over a total of twelve days, according to the Incident Information System website.
He fought the flames for 18 hours that first night, rested for about four hours, and worked another 18-hour shift. He did this for eight days, he said.
On the second day, the wind speed increased to almost 40 mph with 105 degrees heat and around 4% humidity. It was the worst day there, Wilson said.
He was appointed truck commander for the emergency response vehicle, Brush 3, leading three other volunteer firefighters. The group included a spotter and two men working fire hoses on either side of the truck.
Wilson was returning Brush 3 to a drop site when he received an urgent call that another emergency responder had become trapped in active fire, he said.
Wilson's team immediately responded to the call.
They drove through scorched terrain and found the emergency vehicle on fire. Wilson asked the two volunteers with hoses to hit his truck with water. Fortunately, the vehicle was still operational, Wilson said.
However, by the time they completed this task, the wind shifted from south to west, as did the smoke and flames.
"We were now in zero visibility," Wilson said. "I was in an open cab truck, so there was no roof or windows. We were completely engulfed in fire with flames about 100 feet all around us.
While driving through a half-mile of flames and smoke, Wilson kept his composure, pulled the other emergency responder's vehicle out of harm's way and advised his team to take cover.
"I had to push my way with the bumper through the fire and we came out of the active flames," Wilson said. "The truck engine was on fire, the cabin filters were on fire, then the truck started to stall, the little canvas seats in the truck were on fire, then eight of my ten tires were on fire when we got out ."
Wilson emerged with minor second-degree burns to his upper back and face, after safely steering the other emergency vehicle and carrying his own crew.
"I remember the embers raining down on me. I had protective gear on, but I think the stuff went through my collar and landed on my back," Wilson said. "If we hadn't hit them, they might have burned in the fire."
Despite his injury, Wilson continued to fight the flames for another six days.
Wilson was joined by three other B-1 pilots who work with him in the 345th Bomb Squadron, Major Andrew Teague, Major Charles Kilchrist and Captain Joseph Heyser.
"I didn't want to just sit around knowing I had a chance to help and watch this thing threaten our homes and our community," Heyser said.
Despite their skill level or experience, they each volunteered when the opportunity to join the fight presented itself.
"A lot of that parallels our day-to-day mission here at the 345th Bomb Squadron," Heyser said. "You may not know 100% of the specifics of the mission, but you pick them up as you go and trust your crew members to troubleshoot and resolve the situation."
Community leaders also recognized their dedication to service.
Texas Gov. Greg Abbott visited the ECCA VFD and personally thanked these Airmen for their efforts to save lives and property, Wilson said.
U.S. Representative Jodey Arrington presented Wilson with a Congressional coin for his heroism on the second day of the Mesquite Heat fire.
"There's a really strong sense of community here, what affects one of us affects all of us," Wilson said. "It definitely renewed my dedication to service."